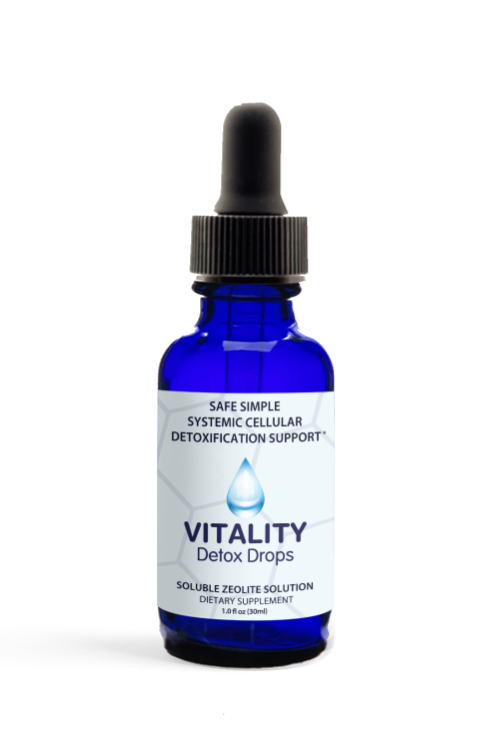 Vitality Detox Drops – 1 fl.oz
$75.00
Free Shipping for
2 or more bottles Domestic,
3 or more bottles International.
[TS-VCSC-Youtube content_youtube="https://www.youtube.com/watch?v=0FzzzYbLeAA" content_overlay_use="true" video_infobar="false" content_overlay_source="preview" content_overlay_level="max" content_overlay_handle="false"]
SOLUBLE ZEOLITE SOLUTION
Safe, Simple, Systemic Cellular Detoxification Support that has the ability to passively cross membranes in the body, including the blood-brain barrier.
Features of VITALITY Detox Drops
(Clinoptilolite Fragments):
The patent pending VITALITY Detox Drops molecule is the most advanced and safe water-soluble Zeolite product available on the market today.
VITALITY Detox Drops passively and systemically helps to cleanse your cells and brain tissue by safely binding toxins and helps removing them from the brain and body
When toxins are removed, inflammation decreases, hormones balance, health restores, weight is lost and lives are restored.
Zeolite has "GRAS" (Generally Regarded As Safe) status as a food additive by the FDA.
Pregnant women pass a lot of toxins and chemicals on to their unborn babies. Therefore, VITALITY Detox Drops is highly recommended for future mothers.
The World Health Organization has stated and proven that heavy metals and other environmental toxins are the cause of over 90% of all of chronic health issues and disease.
VITALITY Detox Drops may provide support to:
Metals
Safely remove heavy metals like mercury, cadmium, arsenic, lead, cesium, strontium, aluminum, uranium and others from your tissue and cells.
Absorption
Increase absorption of essential minerals, nutrients, super foods, herbs and essential oils and in carrying supplements and nutrients to the right places in the body.
Hydration
Increase cell hydration, cell membrane efficiency, vitality, and energy. Toxins hold on to and pollute our cells and they are not able to hydrate normally.
Inflammation
Decrease inflammation by getting rid of bio-toxins, for instance black mold spores.
Focus
Increase overall energy, mental focus and clarity and provide more restful sleep.
Memory
Increase electrical activity in the brain as well as increase memory.
Lyme Disease
Remove Lyme spirochetes. Customers report that their Lyme symptoms disappear when taking VITALITY.
Metabolism
Reduce cellular body fat while increasing basal metabolic rate and lean mass by removing toxins that hold to fat.
Abnormal Cells
Inhibit and eliminate the replication of rapidly reproducing abnormal cells.
What our customers are saying
Chronic sinus infection gone, energy & overall health vastly improved
I initially used two bottles of the Vitality drops as recommended (10 drops twice per day) and I have to say, I am one happy customer! I started the drops at the suggestion of my chiropractor for a variety of pesky health issues such as low energy, brain fog, general malaise, and recently developed food allergies. After suffering for several years with a chronic, low-grade sinus infection (from a mold exposure) that no amount of antibiotics could touch, I finally have relief. My sinus infection was about 75% improved after the first week and was finally gone after 60 days on the drops. My energy level and overall health is vastly improved as well.  It has been 45 days since I stopped the drops and the sinus infection has not returned. (It ALWAYS came back after completing numerous rounds of antibiotics.)  I have now put my husband on the drops, and also recommended them to several friends. Thanks for a great product!
Lyme Disease and Detox Issues – My mind was clearer
  I needed a binder product that wouldn't be constipating or localized only in the gut. It seems easier to use, and I can add drop by drop to adjust to the appropriate dose. I have chronic Lyme and detox issues. I felt my mind was clearer when I started the product. I have tried off and on many products, and countless attempts at finding something to help detox to only experience herx reactions. I think hydration is a good idea with this product and anytime you need to take it slower you can back off by a drop or two and then gradually increase again.
Lyme Disease – symptoms have decreased dramatically
  I have had Lyme Disease for a few years. I tried different therapies and change in diet, but with little success. Since I have been taking Vitality, the symptoms have decreased dramatically. I stopped taking the drops a couple times to see the difference, and indeed, every time I halted taking the drops, my symptoms were back intensely. The drops help me function and made my life a lot better.
Sensory Issues – I have seen the light at the end of the tunnel
I just want to say thank you for for bringing this product to the market. My two children who have sensory issues since birth have noticed a difference and I have seen the changes in their mood and their willingness to try new things. I haven't seen light at the end of the tunnel until now. I'm so thankful that their health is improving due to your zeolite drops. It has been twelve years of searching and hoping there was a solution to these health issues and now I feel liberated and empowered that I can do something about their lives and future. And for that, I can't thank you all enough. Thank you, thank you, thank you!! Keep doing what you're doing because it's working. Great job!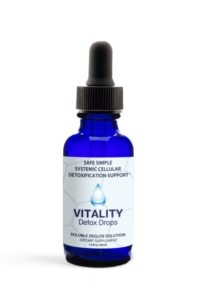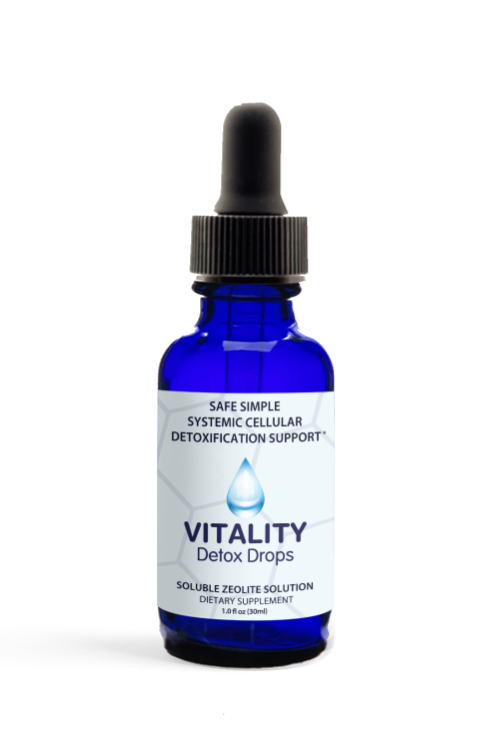 Vitality Detox Drops – 1 fl.oz
$75.00
Free Shipping for 2 or more bottles Domestic,
3 or more bottles International.